Ahmed Hussain is Director and Chief Strategy Officer at Service Sales Corporation (SSC) where he manages multiple footwear brands across retail, wholesale and online.
Previously, Ahmad was a Program Manager at Microsoft where he was part of the Leadership Select Program.  He holds four patents related to his innovative contributions in the computer security and operating system platforms.
Ahmad received his academic education from Carnegie Mellon University where he did his Bachelors and Masters in Computer Engineering.
Ahmad is a member of YPO which is a global organisation of business leaders. Ahmad has been on the board of YPO since 2016.
Image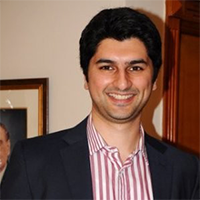 Sub Title
Director and Chief Strategy Officer at Service Sales Corporation (SSC)