Edkasa, a fast-growing education technology startup in Pakistan, has launched its new exam prep mobile application, aiming to reach millions of secondary school students.
Edkasa already has a user base of 70,000 students and more than 40 schools throughout Pakistan that currently use their solutions. This new exam prep app is an evolution of this work, and will leverage and grow their existing community.
The company has already helped thousands of students, and recorded over 1.3 million hours of viewing time with over 250,000 queries answered by its teachers in 2020.
The company, co-founded in 2017 by LUMS (BSc. 2011) and Carnegie Mellon (MSPPM 2016) alumnus and Fulbright Scholar Annum Sadiq and LUMS (BSc. 2005, MBA 2010) and Harvard (ALM 2016) alumnus Muhammad Fahad Tanveer, leverages mobile broadband technology to offer online remedial classes for standardised exam preparation. Its Chief Technology Officer, Muneeb Ali, a GIKI gold medalist, is also the founder and CEO of OneByte, which works with pre-seed, early-stage, and growth-stage startups to help build their products.
Edkasa raised a pre-seed round of USD320,000 led by i2i Ventures, with participation from Walled City Co., Zayn Capital, and strategic angels in Southeast Asia. The investment was made to build out the exam prep app and scale Edkasa's e-learning impact with students across the country.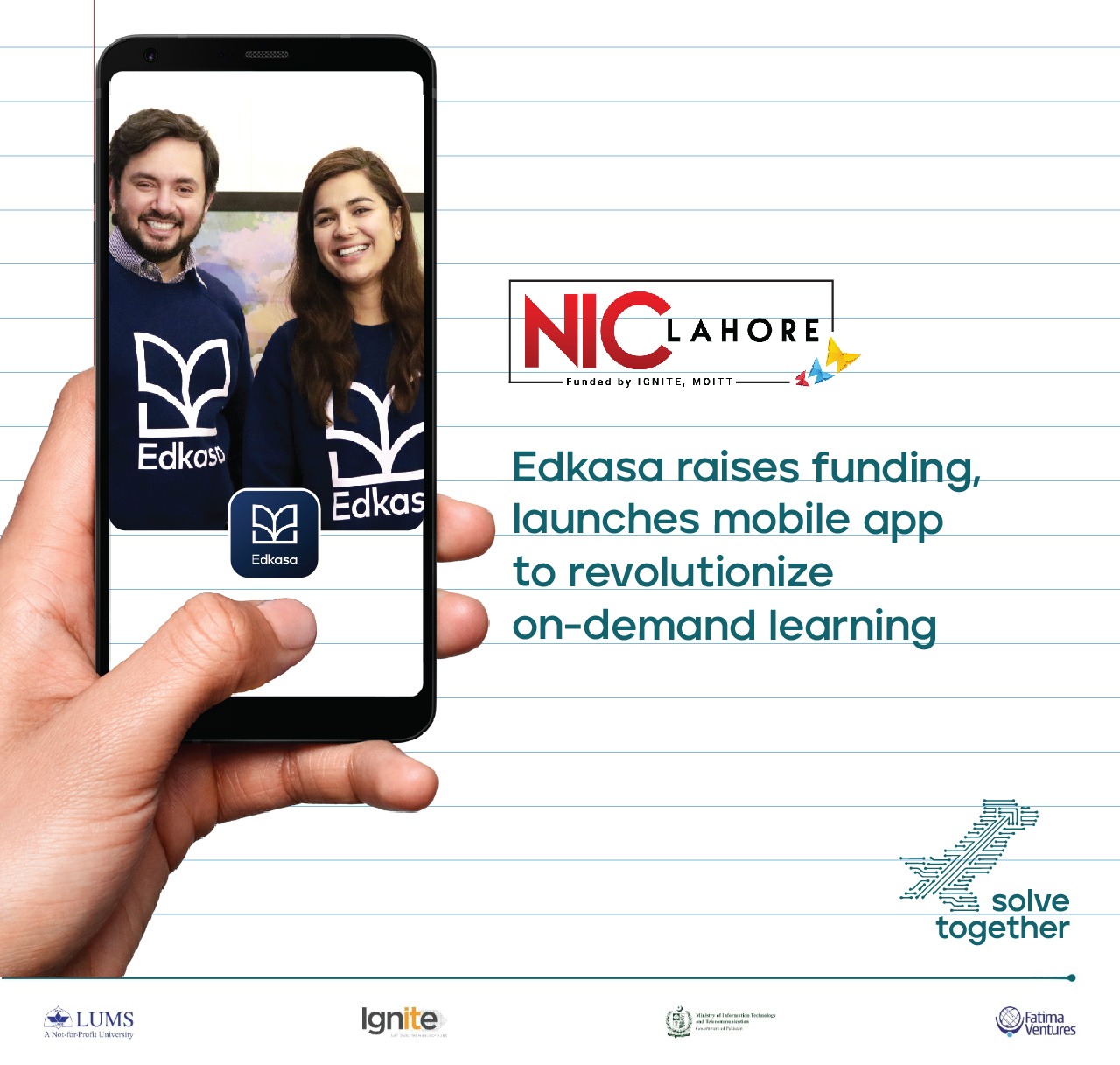 Its mobile application, available to download for Android smartphone users (iOS will be available soon), features an initial quiz to gauge a student's requirements, and then offers customised studying paths based on their needs such as a specific exam, subject, or exam board. Matric and Intermediate students from classes 9-12 can view over 4,500 video lectures on demand and take quizzes based on 15,000 past paper multiple choice questions (MCQs) to gauge their understanding of specific topics. Students can also see how they rank on the app's leaderboard, compared to fellow Edkasa students from across their exam board, city, or country to get a sense of where they stand. Students sign up for the app for free, continue with a monthly subscription fee starting as low as Rs 899 per month, gaining access to Edkasa's learning material in Maths, Physics, Chemistry, Biology and English. Edkasa teachers are highly qualified, with experience educating thousands of students.
The Edkasa app has been designed with feedback from its pre-existing user base, and is also aimed at countering the effects of school closure and an uncertain learning environment due to Covid-19. The launch comes ahead of Board examinations in June, and gives young learners in Pakistan a timely chance to revise studying material.
"Education is the biggest bridge between the world that we have, and the world that we want," said Annum. "Edkasa is a dream coming to fruition, as we prepare to educate millions of Pakistani learners."
Edkasa has earned the support of strategic investment partners and forged meaningful alliances as it moves towards helping Pakistan resolve the issue of access to quality education for over 14 million secondary and higher secondary students, a hurdle that leads to poor exam performance of over half of those who appear in standardised examinations across the country.
"We are excited to lead this landmark deal in the edtech space in Pakistan", said Kalsoom Lakhani, Co-Founder and General Partner at i2i Ventures. "Annum and Fahad are exactly the kind of founders we like to invest in at i2i Ventures – they are using an innovative approach to solve an enormous problem in Pakistan, focusing on exam preparation while building on learnings from their large student user base. We have known them since they were part of the Invest2Innovate accelerator and are proud to be their partners in the next chapter of their journey and for what's to come in their future."
Shoaib Malik, partner at Walled City Co., said Edkasa is on its way to become Pakistan's most innovative learning platform.
"Annum, Fahad and the founding team at Edkasa are transforming the education and learning sector in Pakistan, bringing technology and differentiation to students by connecting them to Pakistan's top teachers and helping them master essential concepts during their exam preparation," said Malik. "We are delighted to partner with Edkasa in these challenging times and are really excited about the opportunities ahead as we move towards the future of learning and helping students realize their potential."
Edkasa's other significant partners include Telenor Pakistan via the Telenor Velocity program with the aim to bring online learning to millions of Pakistanis in the future. This provides Edkasa with a massive vote of confidence by a multinational telecommunication company. LUMS via NIC Lahore has also championed Edkasa from it's early days and continues to be part of Edkasa's journey as it scales to bring quality exam prep material to students across Pakistan and beyond.
—-
About Edkasa (Pvt.) Ltd
Edkasa is a leading edtech startup in Pakistan, helping secondary, higher secondary, and high school students prepare for their exams online. Edkasa is on a mission to provide top notch quality education to each and every student of Pakistan. Edkasa already has a user base of 55,000 students and more than 40 schools throughout Pakistan that currently use their solutions. The Edkasa mobile app is now available on the Google Play Store.