Team
Introducing our passionate, hard-working team that aims to empower, motivate and facilitate entrepreneurs in Pakistan
Arslan Akhtar Khan
Arslan has a bachelor's degree in Education from the University of Education, Lahore, and is currently pursuing his Master of Philosophy (M.Phil.) in Special Education from the University of Management and Technology.
Arslan has several years of experience working in education, with a focus on leadership roles. He has worked as an Academic Coordinator at Roots International School and College, and at Professional Academy of Commerce, where he was responsible for maintaining an effective learning environment in the campus, supervising teachers, and liaising with students and parents. He has also worked as a Head of Department (HOD) Academics Arts at Star Institute, where he was responsible for liaison with students' parents, students counselling, and creating a scheme of studies. In addition to these roles, he has also worked as a Teaching Assistant at the University of Home Economics and a Visiting Lecturer at Punjab Group of Colleges.
Arslan's skills include lesson planning, educational leadership, classroom management, management, educational technology, as well as proficiency in MS Word, MS PowerPoint, MS Excel, and InPage. His hobbies include bike riding and hiking.
Marketing & Communication
Umer Bashir
Umer Bashir graduated in Computer Science from University of Management and Technology. He has several years of experience working as a Visual and UI/UX designer. It was his creativity and skills that also won him the Start-up Weekend in 2015. He is also an entrepreneur at heart, having co-founded BeautyHooked, Technician.pk and ShadiBox. Through his familiarity of User Experience Design from Georgia Tech and User Interface design from University of Minnesota, he teaches entrepreneurs the tricks and hacks of illustration, design, creativity and innovation.
Marketing & Communications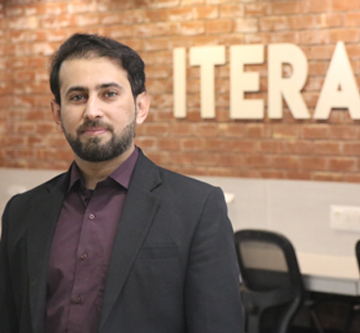 Finance & Accounts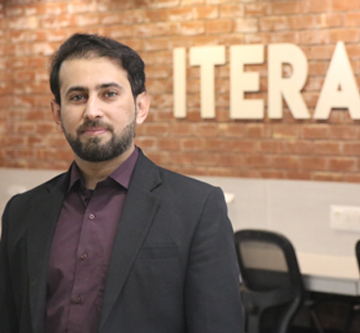 Kamran Khan
Kamran Khan is the Financial Accountant at National Incubation Center Lahore at LUMS. He has an MBA Finance from Superior University. Kamran worked as an Accounts Executive in the Finance and Accounts department of LUMS prior to joining NICL. He was responsible for the preparation and finalization of the annual budget and helped concerned departments regarding budgetary matters. Khan brings this expertise, knowledge and sharp mind-set to NICL to facilitate financial tasks with utmost responsibility.
Zainab Mehboob
Zainab Mehboob graduated from Kinnaird College for women with a BSc. Honors in Biochemistry. She worked as a teacher at Beaconhouse School System (BSS) which led to her switching gears to join the world of academia as she decided to look for solutions to the many problems faced by Pakistan's education system today. Zainab recently completed her M.Phil in educational leadership and management from Beaconhouse National University (BNU).  During her time there, Zainab along with her fellows not only conducted outstanding research, but also went on to publish it in an HEC recognized journal. She has also worked as a research assistant on international projects including one carried out by Beijing Normal University, China. Her experience as a teacher and research assistant has equipped her with valuable skills in organisation, analysis, management and critical thinking.
Marketing & Communication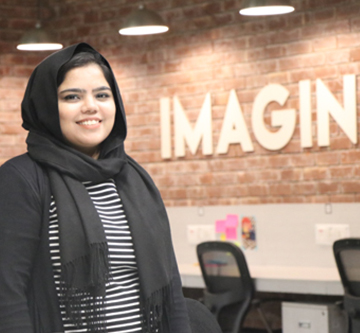 Marketing & Communication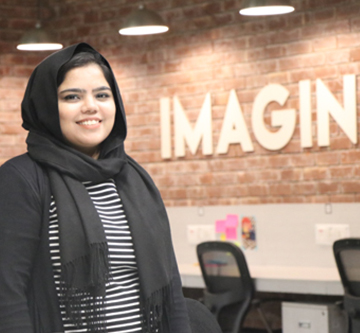 Aqsa Munir
Aqsa Munir is a BFA graduate from PUCAD. With a degree in design, she has five years of experience working as a UI/UX Designer. Additional courses on user experience from the Georgia Institute of Technology and Design Thinking by Innovation Skills Institute, added to her expertise. She has worked on different entertainment media projects like Geo Group Mobile Applications, Ten Sports, etc. She works at gathering and evaluating user requirements, in collaboration with product managers and engineers to help startups illustrate design ideas and user experience. Munir is a believer that design should be leveraged to simplify ideas enough for people to understand and delightful enough for people to want to use.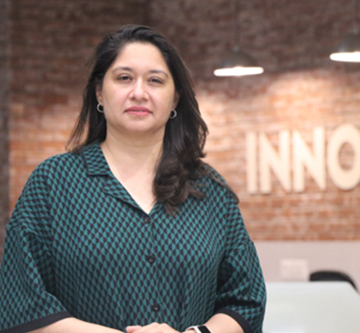 Head of Operations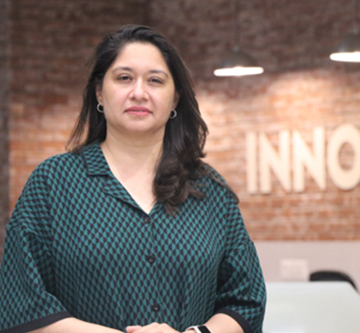 Saima Mujtaba Rana
Saima is a post-secondary Business Management instructor for over 14 years with specialization in the design industry with a focus on entrepreneurship, marketing and merchandising of textiles, jewelry and fashion. She has been engaged with Pakistan Institute of Fashion Design (PIFD) and Beaconhouse National University (BNU) for over a decade and more recently her alma mater Lahore University of Management Sciences (LUMS). Some of her roles being that of an instructor, juror, thesis supervisor and product developer. Her expertise lies in developing her own course outlines and then executing them with case based teaching. Saima is a ISW (Instructional Skills Workshop) certified instructor and has also worked on a UNESCO/Kfit project on imparting management skills to Creative and Cultural Industries in Pakistan. She has also served in capacities of a management consultant and a research associate in her early career. She has coauthored case studies in her research role at LUMS prior to her active teaching career. Saima is an MBA from the Lahore University of Management Sciences.
Saba Shahid
Saba Shahid is a specialist in policy advocacy on sustainable development and local-led development solutions in the think tank sector. She has performance history in policy analysis and research, designing and delivering training modules, academic/report writing, stakeholder management and building partnerships for shared goals. She has worked with local development organizations including various authorities and departments of the Punjab Government, NGOs, academic institutions and international organizations such as UNDP, OPM and WWF. Saba has a keen interest in the intersection of entrepreneurship and economic development, specifically the role of social entrepreneurship in narrowing income and opportunity divides across Pakistan. Saba completed her MSc in Local Economic Development from the London School of Economics and Political Science and holds a BA in Economics from Bilkent University, Turkey. 
Hafiz Muhammad Shahid
Shahid
Makers Lab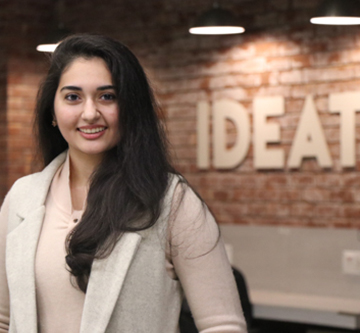 Learning and Development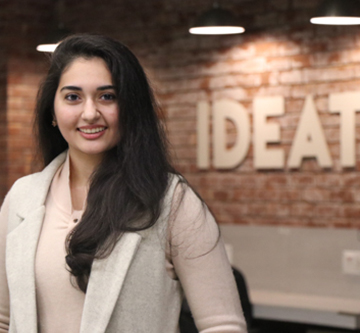 Amina Shaikh
Amina Shaikh is a recent LUMS graduate, with a Bachelor's degree in Mathematics and Economics. Before joining NICL, she was working as an outsourced data analyst for the Education University of Hong Kong on a youth leadership research project. She recently joined the NICL Learning and Development team as the community management associate.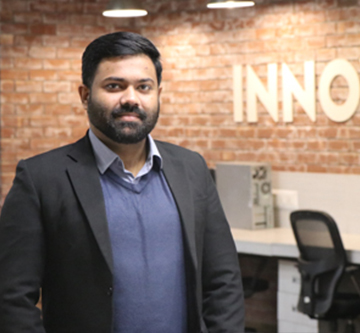 Finance & Accounts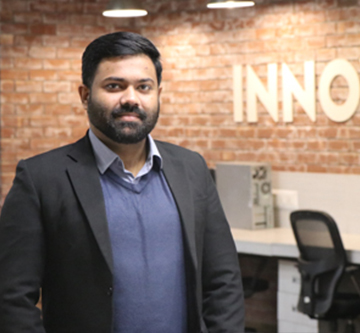 Syed Mesum Ali Zaidi
Syed Mesum Ali is a Qualified Chartered Accountant (ACA) and Business Finance Professional from Institute of Chartered Accountants in England and Wales (ICAEW) UK. In addition, He is Fellow Member of Association of Chartered Certified Accountants and graduated from Oxford Brookes University in Applied Accounting. Mesum has worked as Enterprise resource Planning Consultant in leading textiles brand US Group and implemented Oracle R12 AP, AR, CM & OM modules. He also worked as Senior Officer Finance and Accounts at LUMS, where he was responsible for the planning, budgeting, and monitoring of annual budget along with financial reporting of LUMS employees contributory Provident Fund. He completed his articles from Mirza and Co. Chartered Accountants where he was engaged in statutory audits, assurance and Business Advisory Services. His core responsibility at NICL is financial and management reporting, ensuring adherence with policies and procedures, financial planning, and liaising with auditors.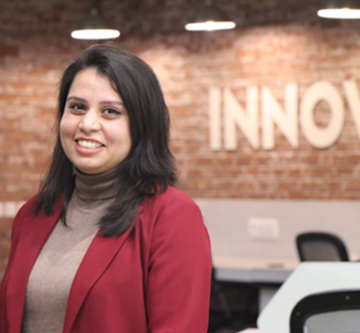 Community & Investor Relations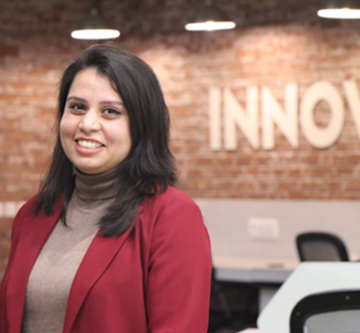 Minahil Zia
Minahil holds an MPhil degree in Economics from University of Punjab, Lahore. Her expertise includes research and data analysis. She has assisted in the design and planning of entrepreneurial programs as well as the training curriculum at NICL. She also oversees the execution of donor-funded programs, providing monitoring, liaising and assessment support. As an economist, Minahil believes trending entrepreneurship is an aspiration to growth in Pakistan. With a drive to see things through to completion, she ensures the smooth functioning of programs under her responsibility.
Arslan Akhtar Khan
Learning and Development
Umer Bashir
Marketing & Communication
Ahsan Israr
Administration
Osman Khan
Marketing & Communications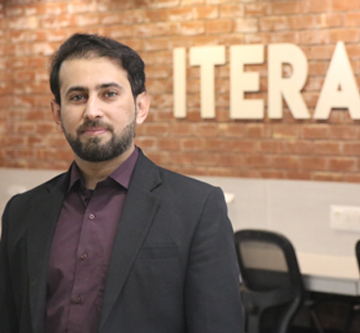 Kamran Khan
Finance & Accounts
Sameen Mohsin
Marketing & Communication
Karamat Ali Mughal
Makers Lab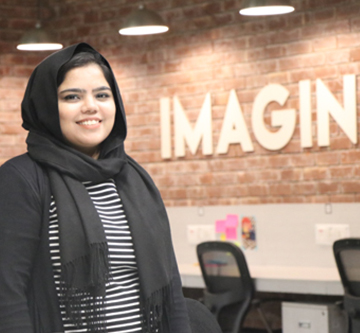 Aqsa Munir
Marketing & Communication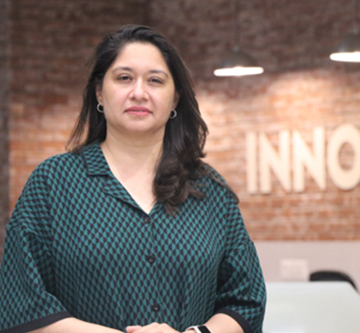 Saima Mujtaba Rana
Head of Operations
Saba Shahid
Partnerships & Projects
Hafiz Muhammad Shahid Shahid
Makers Lab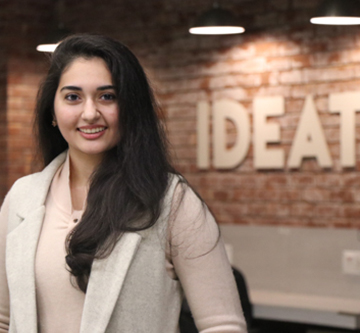 Amina Shaikh
Learning and Development
Muhammad Zaka Ud Din
Makers Lab
Nauman Zaffar
Project Director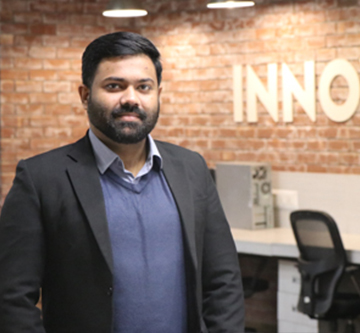 Syed Mesum Ali Zaidi
Finance & Accounts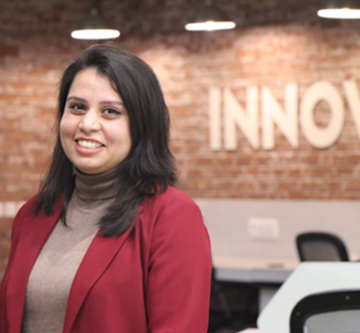 Minahil Zia
Community & Investor Relations